BPC STARTED OFF WITH THE OVERHAUL OF TWO (2) MARINE LOADING ARMS AT TOBRUK TERMINAL AS PART OF EPC PROJECT WITH AGOCO
——————————————————————————————————————————————————————————————————————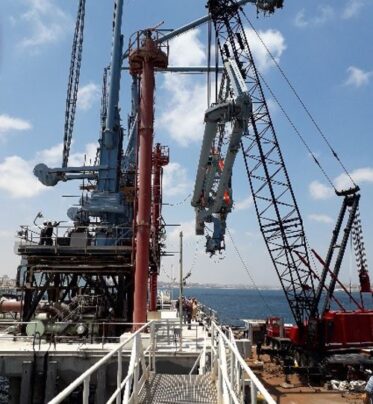 BPC has started off with the overhaul of two (2) marine loading arms at Tobruk Terminal as per project "Maintenance and Repair of Two Loading Arms at Jetty No.1 & 2 at Tobruk Terminal".
Marine Loading Arms are dismantled from the Jetties by means a Crane on Barge. The dismantling operation was very complex and required high attention from BPC and AGOCO Project Staff on site. The complete operation was successfully accomplished without any injuries.
In the next several months the overhaul activities will be carried out at BPC temporary workshop at Tobruk Terminal.